Just a warning up front: this is NOT just a haul from yesterday! Most of this is stuff from the past few weeks that either came in the mail or that I've just neglected to post about until now. :)
I had to return a couple of things to the mall today -- in case you didn't know, I'm not just a shopaholic but a returnaholic! It's like getting to recycle your shopping! haha -- and I walked out with these three lovelies!
Diorskin Airflash foundation (shade 200),
MAC Instant Chic blush from the Pret-a-Papier collection,
Chanel Rouge Allure lipstick in 187 Genial
The Dior Airflash foundation is in an aerosol can and is supposed to deliver an airbrushed finish that feels lightweight and lasts all day, even in hot climates. I tend to be a liquid foundation girl, but in Florida summers, that can be a challenge, so I'm excited to try this! And of course MAC released a new collection, Pret-a-Papier, this past week, so I wanted to check that out. I'm very impressed with myself that I only walked out with one thing! The Chanel lipstick, Genial, reminds me of the YSL Rouge Volupte in #27 Rose Paris, but with more staying power. I love the new packaging (so sleek!) and scent (very light, less old-lady!).
By the way, the ladies at the Chanel counter were SHOCKED that my nail polish was China Glaze's For Audrey and not the new Chanel Nouvelle Vague polish. So for anyone tempted to drop $23 for Chanel's Nouvelle Vague, I highly recommend checking out China Glaze's For Audrey instead. I got mine for about $5 on eBay!
For comparison purposes: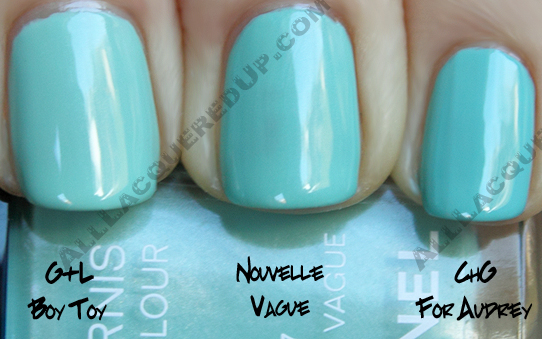 photo credit: alllacqueredup.com
Alright, back to the haulage!
Target finds: Bambi cereal bowl, Sonia Kashuk blending sponge,
Burt's Bees Citrus Facial Scrub, Madonna Celebration CD
I loved last week's Madonna tribute episode of Glee, but instead of going for the Glee mini-album, I went for the real thing. :)
iOffer & eBay: The Babysitter's Club Complete Series on DVD,
YSL Rouge Volupte #13 Peach Passion ($13!)
I was so in love with the Babysitter's Club books and TV show when I was growing up, and was SO EXCITED to find the full series on iOffer. I've been watching it obsessively for the past few days!
Sephora 15% off sale:
Harajuku Lovers cosmetic bag (cutest. print. ever),
Harajuku Lovers Sunshine Cuties fragrance in Love, Evian Facial Mist
And lastly, some reading material (like I'm really lacking in that department!):
Amazon.com: Kelly Cutrone: If You Have to Cry, Go Outside;
Sophie Dahl: Miss Dahl's Voluptous Delights;
Sarah Silverman: The Bedwetter
(especially a funny one, like Sarah) by a bad-ass lady (like Kelly). And Sophie Dahl's book is a *gorgeous* coffee-table-ish cookbook slash biography. I've always loved her as a model and writer (she's Roald Dahl's granddaughter!), and when I saw a feature on this in a magazine, I had to have it!
So that's that. I hope you enjoyed! And before I go, I wanted to show you that I'm not the only one in this apartment who likes to "collect" things!
Sparky with his collection of dirty socks and stockings -- his favorite toys!